Critic Rick Jones (longtime critic for the London Evening Standard) compares the new Orchestra of the Swan recording of Schumann 1 with that of the Chamber Orchestra of Europe under Yannick Nezet-Seguin on Deutsche Grammophon. Read the original here.
It's Bobby and Hans for the win.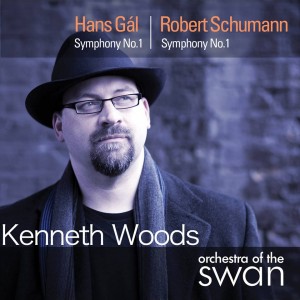 Disc of the Day: One hears the first cuckoo… Not one but two Schumann Spring Symphonies hove into earshot. Kenneth Woods and the Orchestra of the Swan versus Yannick Nezet-Seguin and the Chamber Orchestra of Europe. Woods wins it. One needs express no surprise when the committed outfit with its own conductor beats the prestige youngsters under the rising star jet-setter.  The Woods performance is tighter, rhythmically crisper, richer in contrasts, more characterful and always closer to the composer's wishes. Nezet-Seguin twice decelerates where no tempo change is marked – the first movement's second subject (where Woods marks the contrast not by speed but stark, clear-blue-water contrast between the wind legato and the string agitato) and, more deliberately, the bowed unisons after the skittish pizzicato in the finale. It ruins the momentum. Woods carries on through precipitously, which is clearly what Schumann intends. Woods is slower in the slow movement but anticipates the chords with unified crescendi. He is half a minute quicker in the Scherzo and quite Beethovenian in the string scales where the European conglomerate sounds plodding and lacks the bass throb in the same scales. The solos – the paused horn call, the flute cadenza – show the European mettle but one expects that as these are the cream of instrumentalists skimmed off, but the sense of ensembles within the ensemble in the Stratford On Avon orchestra, with Woods' woodwind even achieving comic tone together, is more important ultimately than fine solos. Golden the daffodils in Shakespeare's birthplace.