A review from Colin Anderson, editor of Classical Source, for Bobby and Hans vol. 3 Read the whole thing here. A short excerpt follows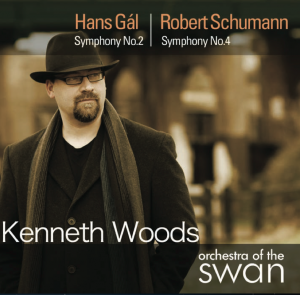 Buy your copy from Amazon here:

Buy your copy from Amazon here:
Gál's Second Symphony (1943) opens solemnly with a chorale-like idea (English ears might find a stylistic correspondence to Gerald Finzi). This soulful 'Introduction: Andante – Adagio' not only establishes a deeply inviting invitation to listen but also the fine playing and vivid (if sometimes too bright) recording quality. Gal 2, leanly scored if with numerous attractive timbres, at once suggests the tension of wartime, and a wish to escape from it, which the rather perky scherzo-like second movement attempts to, conjuring the Vienna of Der Rosenkavalier, through neoclassical high spirits and contrasted with writing that is beguilingly pastoral.
The heart of the Symphony is an extended (here 15-minute) Adagio, deeply felt and with a Brucknerian breadth, and given at a spacious tempo that Woods judges ideally, music of consolation written by a man of a generously lyrical spirit, himself Viennese and steeped in the music of his Austro-German forbears – not least Schumann – hence Woods's apposite couplings. This ineffably beautiful slow movement is followed by an equally lengthy finale, which opens in tense terms, suggesting sinister rumblings, the advancing of a foe…. I suggest that anyone who admires the output of Franz Schmidt, and who generally welcomes song, dance, deepness of human feeling and clarity in their music will find much to entrance and enlighten here. It is certainly good to have a choice of recordings for Gál 2, to compare and contrast, but Woods's version is the place to start.
And anyway, who would want to miss his Schumann cycle. These wonderful works have done really well in the recording studio over the decades, and Woods has stiff contemporary competition from such as Heinz Holliger and Yannick Nézet-Séguin. However, this is music of assorted delights and possibilities, and Woods's view makes for good listening in its quick-footed approach that doesn't negate song elements and which allows for exciting quickening; the coda to the first movement is electrifying. Less quirky than its 1841 predecessor, Schumann's 10-year-later revision is tightly organised, something that Woods seizes upon, with splendid playing, but without overlooking those measures that require flexibility, a sense of fantasy, some tender loving care and, cueing the finale, a Wagnerian grandeur. In short, this thoughtfully considered account belongs in the Schumann 4 collection alongside Boult, Celibidache, Sawallisch (Dresden) and Szell … and it doesn't stop there!