From the latest issue of Musical Opinion Magazine. My manifesto explaining the thinking behind the 21st C. Symphony Project. Subscribe to the magazine here.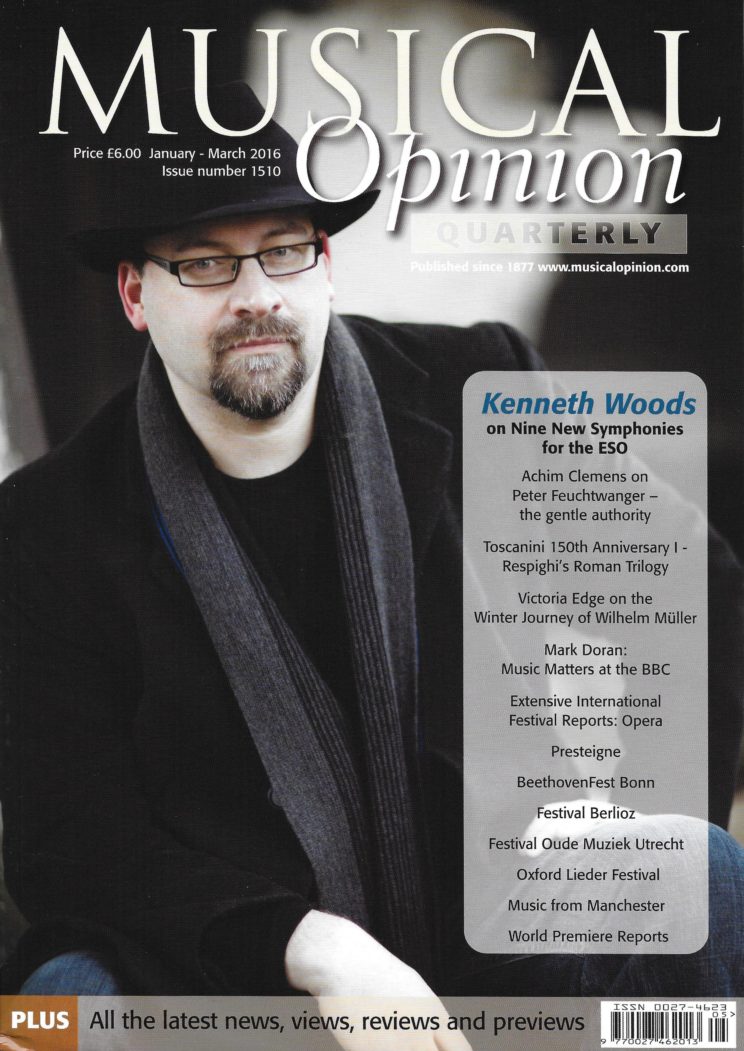 On 28 February, 2017, the English Symphony Orchestra will premiere the Third Symphony by Philip Sawyers, the first work in a cycle of nine new symphonies to be commissioned by the orchestra. Conductor Kenneth Woods explains.
Birth of an Idea
"Composers don't tend to write symphonies these days, they are mostly shorter orchestral pieces with titles." said BBC Music Magazine editor Oliver Condy in a recent Guardian article on his magazine's survey of the top 20 symphonies of all time.
As an orchestral conductor, the overwhelming majority of the concerts I conduct include at least one symphony. For me, the symphony is the most important and influential musical form of the last 225 years, and I've always felt that for symphony orchestras to have a future, the symphony must have a future. So it was that nearly two years before Oliver Condy made that statement, my colleagues in the English Symphony Orchestra and I had decided to do something to encourage composers to write symphonies.
It started when I was appointed Principal Conductor of the ESO in 2013-4. It felt like a big moment for me, and a time for the orchestra, which had endured nearly a decade of tribulations and challenges, to make a bold statement. I decided to commission a symphony from my friend and colleague Philip Sawyers to celebrate this new orchestral partnership.
Within a few months of speaking to Philip, the idea of commissioning a symphony had grown in my head- I was beginning to think about symphonies. The idea of commissioning a symphony seemed so powerful, so simple and so relevant, why should we stop at one? A big part of the ESO's mission is and always has been to support the creation and dissemination of new and unknown British music, especially music that somehow doesn't fall into the programming remit of other major new music champions in the UK like the BBC, the Huddersfield Festival or the London Sinfonietta. In particular, we seek to commission, perform and record new works for an orchestral audience. Music that engages, challenges and rewards an audience steeped in the language of symphonic music from Haydn to Tippett.
So- we would commission symphonies. It was decided. I whimsically thought that since notable symphonic cycles since Beethoven have tended to come in groups of nine, we'd start with our own cycle- nine new symphonies by nine different composers. The 21st Century Symphony Project was born- at least the idea of it.
New Music for the Orchestral Audience
It's no great secret that over the last few decades we have seen a split between the audience for "New Music" and the audience for the broader range of most classical music. Throughout the 20th C., there was plenty of new (rather than "New") music that entered the classical mainstream- perhaps more than in any other century, including now beloved works by Walton, Shostakovich, Barber, Sibelius, Gorecki and Adams. However, much of this repertoire has never quite been accepted as being authentically "New," or fully of its time, or ours, while many older works by Berg, Varese and Schoenberg retain much of the same sense of challenge they held when they were written 80-90 years ago.
In the post-WW II climate, musical taste, originality and culture were largely measured in terms defined by the modernist movement. So it is that music which embodied a high degree of rhythmic and harmonic complexity, extended instrumental and vocal techniques, and structural abstraction came to be that which was accepted for decades as truly music of our times. I've spent a substantial portion of my career working in the world of post-Schoenbergian modernism, and this thread of musical history has given us a great body of works from composers like Boulez, Berio, Ligeti and countless others.
This music, which inspires loyalty, admiration and affection among many listeners (including me), has never gained widespread popularity among the general audience for symphonic concerts. This has often been ascribed to atonal music being "too demanding" or "too challenging" for fans of Brahms and Beethoven.
There is no doubt an element of truth in this. Listening to music is both an aptitude we are born with and an ability we can cultivate. Making sense of a Darmstadt-era modernist masterpiece requires the cultivation of new listening skills that one might never develop listening to tonal music. For many of us, the development of these new listening skills offers enormous rewards, opening up huge vistas of discovery.
With this in mind, the generally accepted view has been that the symphonic audience lacks the listening skills and musical knowledge to fully appreciate much music of the last 90 years, and so therefore, orchestras must find ways of drawing in listeners and making modern music more accessible and appealing. The most common, and by far least satisfying gambit for introducing symphonic audiences to challenging works is what orchestral musicians ruefully call the "shit sandwich," in which a potentially incomprehensible new piece is squeezed between two universally popular warhorses. Such an approach serves nobody- not the composer of the new work, not the audience and not the orchestra. In the absence of an audience fully equipped to track an atonal musical narrative over a long time, orchestras have commissioned shorter and shorter pieces and done all they could to make them digestible to their audience, hence the modern scourge of works of less than ten minutes duration, laden with catchy titles, ingratiating programmatic outlines, and programme notes that often take longer to read than it takes to listen to the piece.
But even as some of us bemoan the lack of certain listening skills in our audience, we too often forget that much contemporary music, be it modernist or minimalist, doesn't engage, challenge or utilize a huge number of listening skills that our audience members do possess to a remarkably cultivated degree. A listening public used to symphonies by Brahms, Bruckner, Mahler, Shostakovich and Sibelius have the capacity to absorb complex and multi-layered musical narratives that stretch across multiple movements lasting up to 100 minutes. They can sense the emotional implications of a wide variety of sonorities, from the very consonant to the very dissonant. They can remember themes and follow their transformation. Many can sense, if not fully understand, complex tonal relationships between keys. They've developed an intimate understanding of the expressive possibilities of the instruments of the orchestra. They've learned to spot a huge range of references to vernacular music, from dances to marches. For these listeners, it isn't simply that they lack the skills to appreciate certain contemporary works, whether modernist or minimalist (although there may well be an element of that), it is also that many contemporary works don't engage the listening skills and critical faculties they've developed across the rest of their listening lives. In some senses, it may be not that we're challenging them too much, but that we're not challenging them enough.
In fact, I've never accepted that any one style of music has cornered the market on relevance or originality. Hans Gál, whose four gorgeous symphonies were largely overlooked for generations because his language was considered too conservative, spoke eloquently of the difference between "novelty of language" and "originality of thought." He clearly prized the latter, and his work clearly shows that it is possible to contribute something distinctive, original and personal in even the most well-explored musical language, just as it is all too easy to produce something trite, derivative and empty using the most contemporary means available.
At the ESO, we're trying to do our part to bring to our orchestral audience substantial, original, challenging and beautiful new works which we think will reward the listening skills they already possess and open up new ways of hearing things over time.
The Symphony Never Left Us
I remember a few years ago reading an interview with an eminent conductor and pianist who declared the musical history had ended with Shostakovich's 15th Symphony, written in 1971. Of course, many 20th C. critics and composers had long considered Shostakovich and the symphony to be anachronisms. To Adorno, the symphony had died with Gustav Mahler.
And yet, for much of the 20th C., the symphony flourished on an unprecedented scale. It is worth noting that for all we think about the 19th. C as the age of the symphony, there is hardly a single work in the genre composed between Schumann's final E-flat Major Symphony, written in 1850, and Brahms's First, completed in 1876, which has firmly entered the repertoire. Mahler, Sibelius and Elgar may have completed their symphonic output in the early years of the 20th C., but subsequent decades gave us cycles of stature and substance by Vaughan Williams, Prokofiev and Martinu. In America, we saw two generations of composers strive to write the great American symphony, leaving a legacy of wonderful works by Roy Harris, Copland, Piston, William Schuman, Leonard Bernstein and Roger Sessions. In Britain, we saw a flowering of the genre after RVW and Elgar which included works by Malcolm Arnold and Bax and two past ESO composers-in-association, Sir Michael Tippett and John McCabe. In America, the legacy of Piston and Harris has been passed on to such natural symphonists as Christopher Rouse, while in Russia, the legacy of Shostakovich, Prokofiev and Myaskovsky was continued by Alfred Schnittke. It seems that the urge to engage with this historic form has never left composers. I remember well cover-conducting for Penderecki during a week of rehearsals for a performance of his Third Symphony. When I complimented him on the piece, he laid bare his motivation: "I wanted to write a real symphony," he said, "like Bruckner."
But if the symphony never really left us, where does it figure in today's musical world? Does the birth of a new symphony today mean what it did in Mahler's day or Beethoven's? What is the genre's relationship with the past, and what does it have to offer the future? These are some of the questions I hope the 21st Century Symphony project will encourage us to think about.
The Journey Begins- Philip Sawyers' Third Symphony
As I mentioned above, the idea to ask Philip for a Third Symphony predated the idea for the 21st C. Symphony project, but looking back, I can't think of a more logical place to start.
I had asked John McCabe if he would be the ESO's composer-in-association when I joined the orchestra. At the time, we were just beginning what would prove to be a long process of rebuilding the orchestra and we had little to offer John other than passion for his music. What we very much wanted to do, in addition to supporting him, was to send a signal about the kind of orchestra we aspired to be, and the kind of music we aspired to commission, perform and record. John was the most passionate and enthusiastic collaborator imaginable, in spite of the fact that his appointment coincided almost exactly with the onset of his final illness. Following his heart-breaking loss in 2015, there was a huge sense of unfinished business coupled with an urgency to continue the work we'd started with him. In relatively short order, I asked Philip Sawyers to succeed John in the now-renamed John McCabe Composer-in-Association chair.
I knew that in Philip we had a colleague who shared John's pragmatism, enthusiasm, generosity of spirit and whose music would be an ideal fit for both our orchestra and our audience. Musical Opinion's own Robert Matthew-Walker had already hailed Sawyers' work as "…the kind of music for which many people have been secretly hoping for years…" And, of course, I'd also already asked him to write a Third Symphony for us.
I'd first become acquainted with Philip's music through two key orchestral works, one written in 1972 and one from 2001. As Philip explains, "My first symphony was a commission from the Grand Rapids Symphony Orchestra. Having almost always written what others had asked for a symphony hadn't previously been requested. My early (1972) Symphonic Music for Strings and Brass had, from 2001, been performed widely in the USA and my preference for 'symphonic thought' must have been noted there.
"As a teenager the symphonies of Beethoven, Haydn, Mozart, Brahms, Mahler, Shostakovich, Walton and many others were all devoured with a passion. I still have a large collection of LPs and scores from those days and studied the works thoroughly.
"To me the symphonic ideal is one of 'becoming', of almost organic growth. It is a journey through a myriad of musical ideas that are as closely argued as any philosophical treatise. My First symphony followed the traditional, four movement, form, the movements being a portentous first, a spacious Adagio second, a fleet Scherzo third, and a Finale with an heroic and affirmative ending."
Philip's First Symphony reminded me of Penderecki's comment from so long ago, it was also a "real symphony, like Bruckner." Not that it sounded anything like Bruckner, any more than Penderecki's did, but that it had a similar ambition of scale, and a fully realised sense of musical architecture and emotional direction. We became friends around this time and hatched a plan to record three works together for Nimbus with the Orchestra of the Swan- his Concertante for Violin, Piano and Strings, his Cello Concerto and his Second Symphony, an astounding work which marked a major step forward in his musical evolution. Philip says of the piece that "Being a great admirer of Schoenberg, my Second symphony, like his First Chamber Symphony, was in one continuous movement if in sections vaguely resembling the traditional four-movement form.  I further developed my own harmonic ideas incorporating harmonies and melodic lines that were tonal, atonal, and 12-tone. Schoenberg's ideas about continuous development appealed to me and somehow my style began to embrace more counterpoint and motivic working than before. I also feel that my years at the ROH with many great Wagner performances gave me a fascination for his transformation of the leitmotif, which now seems just a natural part of my symphonic thinking."
Sawyers' Second Symphony is an astonishing work- written for a Beethovenian orchestra, wedding Schoenbergian intensity of thought to Mahlerian emotional grandeur. It is a 20 minute tour-de-force for small orchestra. Throwing budgetary caution to the wind, I suggested to Philip that his Third should be on a grander scale. "By the time I began work on my Third" he says, "my musical explorations had become rather esoteric.  The Norwegian composer Fartein Valen, whose almost unrelenting sense of brooding and pessimism and his personal harmonic style appealed. Back to a larger Tchaikovsky-sized orchestra for this new symphony and back to four movements with a similar scheme to my First symphony except instead of a bustling Scherzo, the third movement is an Intermezzo, followed by a Finale in which the last, triumphant section counters the dark pessimism of the first movement, the resignation of the second and the skittishness of the third The symphony ends resolved in mood and tonality on a secure and final G. Although those who know my music will recognise certain stylistic fingerprints common to previous pieces, my Third Symphony is to me a move to somewhere new along a journey that was begun over 50 years ago." Listeners can hear where we are on that journey on the 28th of February, 2017, when the ESO premieres the Third Symphony in St John's Smith Square
The Journey Continues
Even as the 28th of February approaches and my colleagues and I focus on preparing this enormous new score, we're already thinking well ahead about the next phases of the 21st C. Symphony Project. Now that word of the project is in the public domain, I brace myself for having new symphonies thrust at me in the tube and at coffee shops and cafes across Britain, in spite of the fact that the practical and financial underpinnings of the project remain very much in development. Will we find an audience? Will we find funding? There are no guarantees of success in such a huge endeavour, but we have belief in the rightness of our cause (and ample bloody-mindedness) on our side.
We do have a pretty clear sense of what the next few steps in the cycle will be, and I have a long wish list of possible composers, more than enough to fill out the cycle. But then who is to say that we must stop at a Beethovenian 9? We could stretch it to a Mahlerian 9 (i.e. 11), or add on a Brahmsian 4 or stretch to a Shostovichian 15, although I think there is no chance of us reaching a tally worthy of Haydn or Havergal Brian.
In 2018, we're looking forward to premiering the Ninth Symphony by David Matthews, one of today's greatest symphonists, and a composer who has written most admiringly of the music of Philip Sawyers, who Matthews says "has chosen to work within the great tradition of the symphony, a demanding form that many composers are wary of taking on. Sawyers, however, is a natural symphonist: his first two symphonies show those necessary qualities of dynamism, dramatic contrast, lyricism; they are works that renew the tradition in a vital way." Matthews is also a composer whose works renew the tradition in a vital way, and his Ninth Symphony promises to be a very important addition to the canon, and ninth symphonies tend to be rather special, with Matthews hinting that his will be closer in spirit to Shostakovich's witty and mercurial ninth than to the more grandiose ninths of Bruckner and Mahler. And beyond Matthews? Well, we know who the next three or four symphonists are, but I'm going to keep you guessing for now.
The Concert
Tuesday, 28 February, 2016 at 7:30 PM
Pre-concert talk at 6:30 PM
St John's Smith Square
English Symphony Orchestra
Kenneth Woods- Principal Conductor
Clare Hammond- Piano
April Fredrick- Soprano
Philip Sawyers- Fanfare for Brass
Philip Sawyers- Songs of Loss and Regret (London premiere)
Mozart- Piano Concerto No. 20 in D minor K466
Philip Sawyers- Symphony No. 3 (world premiere)