Government officials are considering a move to permanently do away with alto clef from 2018, sources have revealed.
It has been known for some time that the widely reviled clef, recently voted "worst clef" for a record-shattering 27th year in a row, has long been considered by many in the cabinet as "unfit for purpose." A recent government white paper on clefs and transpositions cited many shortcomings with alto clef, including insufficient distinctiveness from other so-called "c clefs," notably the far more popular tenor clef.
Minister for Transposition, Jacob Wayst-Moog, said of the underperforming clef: "For many years now, the government have been aware that alto clef is saddled with a number of intrinsic shortcomings. Almost nobody can actually read it- even violists, who use it everyday, are often as confused about what pitch they are playing as are those listening to them. Most decent violists are actually violinists anyway, and they'd be far better off under the government's new plan for viola parts to be written in treble clef transposed in F."
Alto clef has long raised the ire of leading music critics as well as musicians. "The real problem with alto clef," said one leading London critic, "is that it's only useable for a register that nobody particularly wants to hear," while another noted that "it's hard to muster much enthusiasm for alto clef- all it seems to be good for is the wooly region of the viola and missed notes on the trombone. Where tenor clef tends to create a sense of expectation of the bright heldentenor colorings of the cello and stentorian trombone chorals, alto clef is really only used for fuzzy inner voices and passages requiring the use of a toy trombone."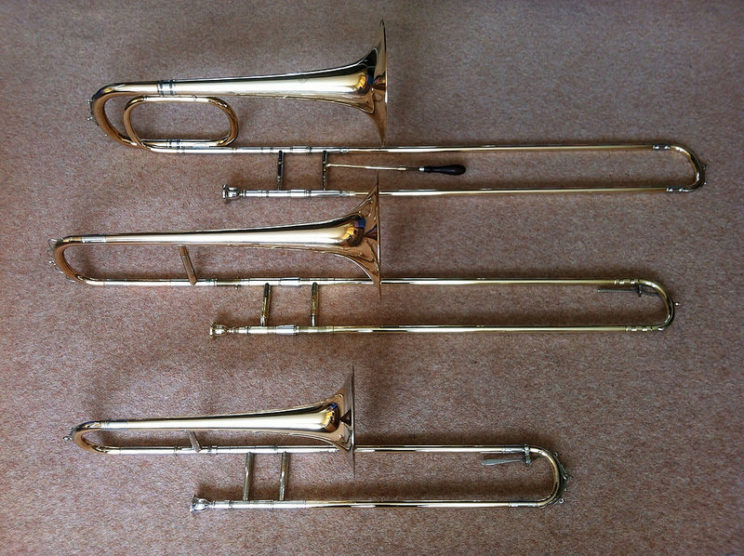 Some in government expect the "alto trombone" (bottom)  to be renamed as the "toy trombone" once alto clef is scrapped in 2018. Photo credit- Edward Solomon
It is understood that a final announcement on the future of the troubled clef has been postponed due to a lack of consensus among ministers as to what to replace it with. While some have advocated for an expansion of the role of tenor clef, others have called for the widespread introduction of transposition among violists, a plan recently derided by the Leader of the Opposition as "the worst musical idea since techno-dodecaphony."
Government ministers were quick to discount rumors that the move to replace alto clef was intended to save conductors from public embarrassment. "Let's face it, if we did away with all musical notation that conductors struggle with, it wouldn't mean just doing away with alto clef, bass clarinet in A and Glockenspiel,  we'd have to rely on conducting Mahler symphonies using guitar tablature," said one source.
Meanwhile Mervyn Purvue of the British Society for the Preservation of Historic Clefs called for caution: "Alto clef may have its obvious shortcomings, but sometimes it's important to protect the appropriate place of aspects of our heritage, however grotesque and disgusting we may find them. Like Morris dancing, the music of Percy Grainger and TV talent shows, alto clef reminds us that life often has a dark and distasteful side. Just as we must face up to the brutal atrocities committed over the centuries in the name of the British Empire, we must accept that alto clef, awful as it is, is a part of our musical history we can't just sweep under the carpet."