[Re-blogged from MahlerFest.org]
BEYERS, DEVANE, KOREVAAR STANDOUT PERFORMERS AT MAHLERFEST XXXII
Published in "Wunderhorn", the Journal of the New York Mahler Society
By Kelly Dean Hansen, Freelance Classical Music Writer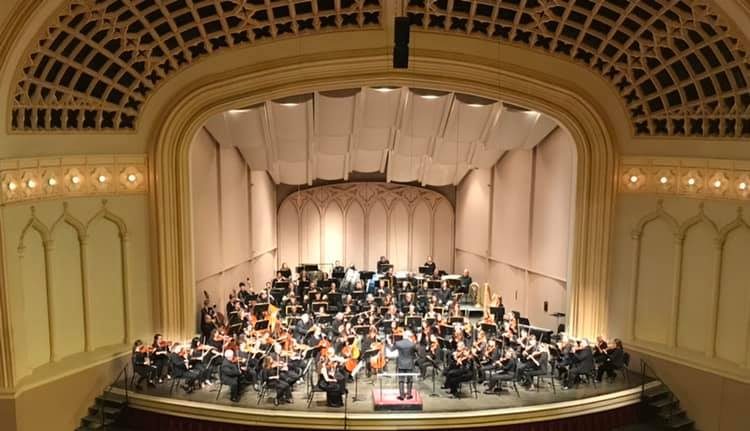 In its 32nd year, the fourth under music director Kenneth Woods, Colorado MahlerFest provided more actual musical content than it ever has before.  Woods has taken steps each season to place his own mark on Boulder's most unique classical music event, but he is always careful to uphold the spirit established and maintained by founding director Robert Olson.
For most of MahlerFest's history, the focus has been squarely upon the year's featured symphony by the composer it honors.  That was certainly the case two years ago when Woods directed Gustav Mahler's unfinished Tenth Symphony in the most commonly used performing version by Deryck Cooke (which MahlerFest had never presented).
This year, however, while the First Symphony was given a full-hearted and exuberant performance to close the festival on Sunday afternoon (May 19) at Macky Auditorium, it did not overshadow the remainder of the music on the four concert events, during which the solo artists provided standout performances.  Two of those solo artists are Boulder favorites who made their most memorable appearances in some time.
Four unique concerts with no repeated music is unprecedented for the festival.  A repeated chamber concert with two venues has long been part of the event calendar, but last year the two concerts had differing programs.  This season, for the first time, the main orchestral concert with the featured symphony was not repeated.  While there is something to be lamented in that change, the new Saturday evening chamber orchestra concert was such an artistic success that it helped dispel any grievance about it.
At the heart of that program on May 18 at Macky was Mahler's song cycle Lieder eines fahrenden Gesellen (Songs of a Wayfarer), which is closely connected with the First Symphony.  The cycle was performed in the interesting chamber orchestration by Arnold Schoenberg and sung by CU-Boulder alumnus and favorite local operatic performer Joshua DeVane.  DeVane's interpretation was exciting, heart-rending, and passionate, displaying a keen understanding for the emotions in Mahler's words and music.
Woods led the small ensemble deftly throughout the program, which also included the humorous, delightful arrangement by Schoenberg of Johann Strauss, Jr.'s Emperor Waltz and Mahler's arrangement for string orchestra of Beethoven's "Serioso" String Quartet.  Both performances were revelatory.  But it was Woods's own string orchestra arrangement of Viktor Ullmann's Third String Quartet that was most moving.  Ullmann, who composed the excellent work while interned at the Theresienstadt Ghetto in 1943, murdered at Auschwitz a year later.
Like Ullmann, Hans Krása composed works at Theresienstadt before his death.  Both composers were influenced by Mahler.  Krása was featured in two works for string trio at the second chamber music concert Friday, May 17 at The Academy in Boulder.  On this all-string concert, Woods wore a different hat as a cellist and was joined by Karen Bentley Pollick and Lauren Spaulding.  Pollick and Spaulding are principal second violinist and violist of the MahlerFest orchestra.  The two string trio pieces are idiomatic and impressive, with some dark undertones but not without humor.
The meat of the order on that program, however, was the String Quintet by Anton Bruckner, a composer who certainly exerted influence on Mahler.  In the work—which is of the symphonic proportions that would be expected of its composer—the three performers were joined by MahlerFest's concertmaster and assistant concertmaster Zoë Beyers and Suzanne Casey.
This would be the second appearance for Beyers, who made her 2019 festival debut in the first chamber concert Wednesday, May 15 at the Dairy Arts Center.  There, she performed Edward Elgar's profound and beautiful violin sonata with Boulder's favorite classical artist, CU-Boulder pianist David Korevaar.  In the sonata, Beyers displayed warmth and technical prowess that would continue through the remainder of the festival.  Clearly the most active performer on the season's docket, Beyers was giving a foretaste of what would be a transcendent solo performance on Sunday's closing concert.
As for Korevaar, in addition to playing the demanding piano part in the Elgar, he took on a challenge few pianists would dare: one of Franz Liszt's legendary arrangements of the Beethoven symphonies for solo piano.  These arrangements are notoriously difficult, among the most challenging things for any pianist to tackle.  In Korevaar's hands, the Fourth Symphony lost none of its identity despite the absence of the orchestra.  This is a testament to both Liszt's skill as a transcriber and Korevaar's pianism.  The perpetual motion finale—certainly not idiomatic for the piano—was breathtaking.  In fact, this may rank as Korevaar's finest Boulder performance in several years, and that is saying something.
The concert and the festival opened with a youthful work by Benjamin Britten, the "Phantasy Quartet" for oboe and strings.  MahlerFest principal oboe Victoria Brown and principal cellist Zachary Reaves joined Casey and Spaulding for the opener, setting the stage nicely for the Elgar and Beethoven to follow.
Sunday's keystone concert—dedicated to late longtime MahlerFest board president Stan Ruttenberg—was unusually rich in content, especially given what had come before.  The MahlerFest orchestra came through heroically as it always does in the audacious First Symphony.  Woods carefully paced the symphony's famous "breakthroughs" (which provided the theme for the festival).  The ironic funeral march of the third movement was atmospheric, as was the buoyant second movement.  Woods prefaced the symphony with its original second movement, "Blumine," which Mahler removed after the first performance.  Both were played from a new critical edition by Breitkopf & Härtel, the first time it has been used in any performance worldwide.
The opening work, Beethoven's Leonore Overture No. 3, played with Mahler's skillful adjustments for large orchestra, was also thrilling, but the central work, Erich Wolfgang Korngold's lush Violin Concerto, almost overshadowed the symphony.  Beyers served as soloist and was spectacular, as was the orchestra.  Korngold, known for his film scores, provided a dramatic and highly romantic score in his most famous concert work, some of which would be unthinkable without Mahler's influence.
The music of the festival was largely centered on arrangements, of Mahler, by Mahler, of and by others, and all four programs were highly enjoyable, as was Saturday's daylong symposium at CU's Grusin Music Hall.  The symposium—one of MahlerFest's most durable and unique events—again featured notable Mahler scholars and a presentation by Woods, as well as a biographical film featuring the late Mahler biographer Henry-Louis de La Grange, always the composer's greatest champion.  Outgoing board president David Auerbach—one of the most prominent links between MahlerFests past and present—assembled another stimulating day of intellectual feasts.
MahlerFest XXXII was historic for the festival, and auspicious for the fourth symphonic cycle it begins.
---
Dr Kelly Dean Hansen holds a PhD in Musicology from University of Colorado at Boulder where his dissertation was focused on the music of Mahler. He has produced a popular series of listening guides on the complete music of Johannes Brahms and served as music critic of the Boulder Daily Camera from 2011-2018.